WWE Summerslam 2022 is a premium live event scheduled on 30th July 2022 at Nissan Stadium in Nashville, Tennessee. It is one of the WWE's major shows.
So here, I am sharing my predictions for SummerSlam 2022.
WWE SummerSlam 2022 Predictions -
Last Man Standing Match for the Undisputed WWE Universal Championship: Roman Reigns (c) (with Paul Heyman) vs. Brock Lesnar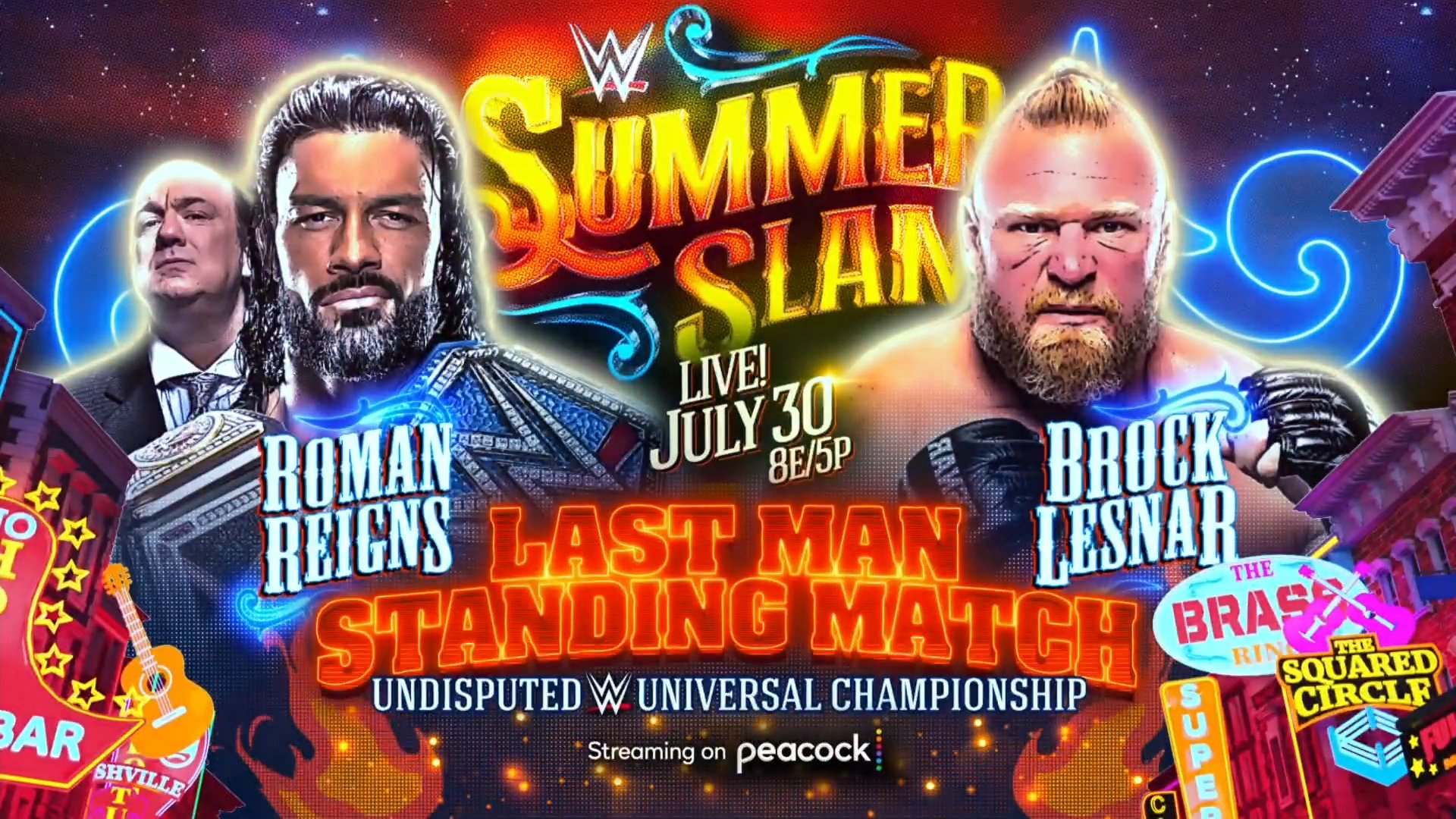 Another rematch between both, but this time at least there is a stipulation, it looks like only two people can be champions in the whole company. Originally Roman Reigns was scheduled to face Randy Orton for the event, but his injury caused WWE to go back to his biggest draw The Beast Incarnate Brock Lesnar. They have a stadium to sell, So I feel bringing back Brock Lesnar was their best shot. Roman Reigns pinned Brock Lesnar at WrestleMania 38 this year and at Crown Jewel 2021 last year, and still WWE feels we need to get invested in this match.
The build-up would be Roman talking about how he smashed Brock twice, Paul Heyman claiming how Roman Reigns has conquered Brock Lesnar, and Brock Lesnar making us believe he might be the one to conquer Reigns and become the new WWE Undisputed Champion.
As far as the match goes it would be the same formula of Big Moves, F5, Superman Punch, German Suplex usually happens in the matches between these two, and I am sicked of that referee bumps in Brock Lesnar matches. At least the match has got a stipulation of Last Man Standing, which can make the match entertaining, but I still feel there would be some shenanigans to protect the clean loss, such as interference from Usos.
I don't feel like Money In The Bank 2022 Winner Theory would cash in to make it a triple threat, I don't feel he has got credibility as of now, to be a champion.
Hopefully, WWE is claiming, that this is the last match between the two but it's Brock Lesnar Vs Roman Reigns, they can fight forever.
Prediction - Roman Reigns Retains
Pat McAfee vs. Happy Corbin
Pat McAfee had a good showing at this year's WrestleMania, and now he is again back in action against Happy Corbin. Happy Corbin has been taking constant losses over the past few months, but as a heel, he is doing an excellent job. It's basically an attraction match, between a heel and a face. As it's SummerSlam, and we need a feel-good moment, the face will prevail.
Prediction - Pat McAfee wins.
Singles match for the WWE United States Championship: Bobby Lashley (c) vs. Theory
Another Rematch within a month between these two, Bobby Lashley defeated Theory clean at Money In The Bank 2022 for United States Championship, We are not getting John Cena vs. Theory at SummerSlam 2022, Hopefully, we will get this match down the line, maybe at WrestleMania 39 next year. As far as this match goes, Bobby Lashley will retain, he is a big superstar, and he has to face Roman Reigns down the line. He will also bring prestige to United States Championship. As far as Theory goes he has just won the Money In The Bank briefcase, so losses don't matter to him for some time now, he can lose but will still be in limelight.
Prediction - Bobby Lashley Retains.
Tag team match for the Undisputed WWE Tag Team Championship: The Usos (Jey Uso and Jimmy Uso) (c) vs. The Street Profits (Angelo Dawkins and Montez Ford)
The same story again, another rematch, I don't know why WWE keeps booking rematches. There is no gimmick added to the match too, to keep fans invested. We can only hope the match quality would be top-notch, as it was in the Money In The Bank. There is no way The Usos are dropping belts.
Prediction - The Usos Retain.
Singles match for the WWE SmackDown Women's Championship: Liv Morgan (c) vs. Ronda Rousey
Money In The Bank Women Ladder Match Winner Liv Morgan is having a dream run right now, she cashed in her contract and pinned Ronda Rousey to become WWE Smackdown Women's Champion for the first time in her career. The story was Ronda Rousey was injured when Liv Morgan cashed on her, so Ronda Rousey deserves a rematch. As the match goes we cannot expect Ronda Rousey to be pinned clean by Liv Morgan, as she is the most protected female superstar on the roster. We can expect a DQ win for Ronda Rousey or some outside interference that helps Liv Morgan to retain, maybe the return of Queen Charlotte Flair.
Prediction - Liv Morgan Retains.
The page would be altered on a regular basis as more matches get announced. Stay tuned for more updates.