Vaashi, a freshly released movie starring Tovino Thomas and Keerthy Suresh, is on Netflix on July 17. The movie, which Vishnu G. Raghav directed, is a legal drama in which both of the main actors play attorneys.
Hi, guys so you must have taken a clue through the title but let me tell you today we are going to tell you all that is to know about vaashi movie 2022 so let's do not waste time and get a read on the article.
Vaashi Malayalam Movie Cast:
 Adv. Ebin Mathew(Tovino Thomas)
Adv. Madhavi Mohan(Keerthy Suresh)
Gautam Ganesh(Anu Mohan)
 Anusha Shivakumar(Anagha Narayanan)
 Adv. Satheesh Mulloor(Baiju Santhosh)
 Magistrate(Kottayam Ramesh)
 Mathew(G. Suresh Kumar)
Shivakumar(Nandhu)
 Jose(Rony David)
 Madhavi's Mother(Sreelakshmi)
Nandhitha(Arya)
 Vimal(RJ Raghu)
Elsy(Meera Nair PS)
 Ganesh(Amal Rajdev)
 Ganesh's wife(Vijaya Kumari)
Vaashi Movie

Release date:

17 June 2022

Director: Vishnu G Raghav
Writer: Vishnu G Raghav, Janiz Chacko Simon
Producer: G. Suresh Kumar
Cinematography: Neil DCunha
Editor: Arju Benn
Duration: 128 minutes
Country: India
Language: Malayalam
Vaashi Movie IMDb: 6.4 out of 10
Vaashi Movie 2022 Plot:
Coworkers Adv. Ebin and Adv. Madhavi fall in love. They take opposing positions in an IPC 375 case with IPC 417 components. They both battle the case aggressively intending to win, which causes issues in their personal lives. When their supervisor and buddy Adv. Mulloor tells them not to combine their careers with their personal lives, they eventually heed his warning and makeup. As a result of Adv. Madhavi's side lost the case, the victim begins to exhibit symptoms of Stockholm syndrome.  Both attorneys Ebin and Madhavi find it difficult to accept the ethical bounds of their profession, but they decide to keep their individual and professional lives apart after realizing that their love transcends the courtroom egos.
Vaashi Movie Review:
Vaashi starts off regularly by presenting Madhavi and Ebin Matthew as aspiring attorneys. They are friends who soon fall in love and decide to get married, but things began to go south when they are both faced with a rape charge from opposing perspectives, with Madhavi defending the perpetrator and Ebin representing the victim. Their own personal lives are eventually impacted by what first starts as a professional conflict.
The director of Vaashi made a prudent choice by having the actor serve as the victim and the actress plays the accused in order to avoid gender issues and stereotypes. There are numerous well-written passages, but they are diluted by gaps in the dramatic logic; he failed to develop this "excellent storyline" with a strong script. The movie's first half is neat, with the light-heavy action. There's a clear good and negative difference between the case the director decodes via leads; better writing could've made the movie, especially the second half, more sound; Vaashi instantly reminded us how not all great ideas are transmitted exactly on screen. The movie becomes boring and the audience loses interest in the second half. It has a conversation that everything/everyone is grey, but it doesn't highlight that visually on screen.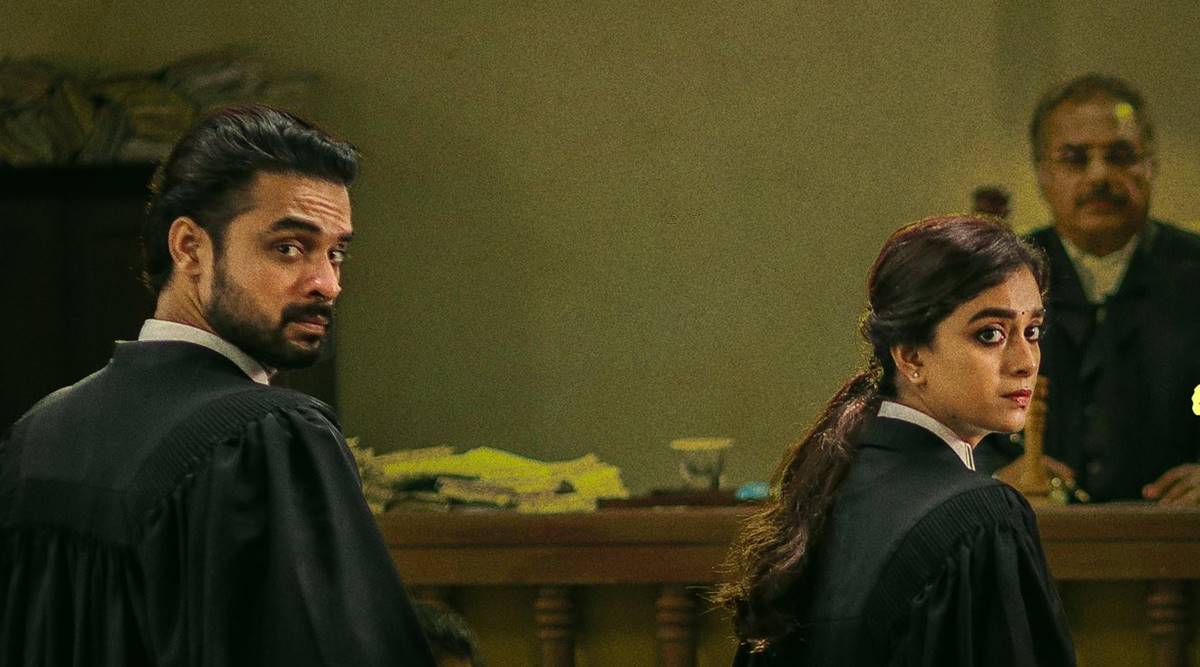 Tovino Thomas' portrayal of Ebin Matthew was fantastic; his charm and subtlety had us watch the entire film, even at its weaker moments. With his outstanding performance, he was the only one who could carry the movie.
Although one would anticipate a better performance from Keerthy Suresh as Madhavi, in most of the important scenes, she simply appeared illiterate. Her characterization, which also falters in the second quarter, just makes us feel more disinterested in her character and prevents us from choosing between Madhavi or Ebin's side of the argument in the concluding scenes.
Technically speaking, the Malayalam movie Vaashi is adequate, Neil D. Cunha's cinematography is strong, and the court's environment and surroundings are authentically depicted. While the song by Yakson and Neha is adequate and the lyrics by Kailas Menon are calming, the BGM for the film's most somber sequences could have been more dramatic. Arjun Benn's editing is flawless; despite the movie's brief runtime of only 2 hours and 3 minutes, the author made sure it stayed focused without deviating much. Within the first half, there is a stunning conflation between such a tremendous court scene and a marriage scene that makes us experience strongly about rooting for the leads. Do you know vaashi in English meaning, let me tell you it has interesting meanings some of them are blood, Persistence, and Zing.
Vaashi Movie 2022 Trailer:
Read More Blogs on 99Chill:
FAQs:
Ques1. Is Vaashi a movie hit or flop?
Ans. Vaashi movie review has said that it earned Rs 1.2 crore at the box office, starring Tovino Thomas and Keerthy Suresh. The film starring Tovino Thomas and Keerthy Suresh, which reportedly barely made Rs 1.2 crores in Kerala, is receiving a final box office judgment of being a flop. The movie premiered on June 17.
Ques2. How is Vaashi movie?
Ans. In Vaashi movie 2022, two lawyers named Ebin and Madhu struggle with deciding for themselves and resolving personal conflicts. The two pals, who coincidentally become partners throughout the course of the film, are shocked by a case that pits them against one other on opposing sides of the courtroom. Ebin and Madhu are the prosecution and defense in a case that not just alters the path of their client's lives but also has profound, unavoidable effects on them.
Ques3. Is the Vaashi movie released?
Ans. Yes, the Launch day for Vaashi was June 17, 2022.
Ques4. Is Vaashi ott released?
Ans. We can anticipate the OTT launch date when the movie has been released in theatres. Some said it was 17 July 2022. Until then, remain tuned with us; as soon as we hear from the producers, we'll update.