Nothing to the surprise, Colors is back with its one of the most famous shows in the history of Television. This serial is none other than our favorite Sasural Simar Ka. This is the show that made the identity of Deepika Kakkar unique in this TV industry. Many of us must have watched the Sasural Simar Ka season 1. Just like many other TV shows, Sasural Simar Ka also has made a comeback with its sequel.
The story has been written by Jay Verma. The director of the show involves Yash Sinha. The Sasural Simar Ka 2 has completed about 300 episodes on the colors TV. The show is being produced by Rashmi Sharma and Pawan Kumar Marut under the banner of Rashmi Sharma Telefilms. The pilot episode of the show got telecasted on Colors TV on the 26th of April 2021. The show is yet to complete its one year of the telecast.
The Sasural Simar Ka written episode story could be read on various entertainment sites and telegram apps.
Sasural Simar Ka cast:
Sasural Simar Ka 2 involves various actors as guests, starring in this new season who had played important roles in season 1 of the show. Here is a complete list of all the artists who are playing different characters in the show:
Radhika Muthukumar as Simar

, a singer

Avinash Mukherjee as Aarav Oswal

, Simar's husband

Jayati Bhatia as Geetanjali Devi Oswal

, Geetanjali's twin sister, and Simar's grandmother-in-law

Tanya Sharma as Reema Narayan Oswal

, Simar's sister, and Vivaan's wife

Karan Sharma as Vivaan Bhardwaj Oswal,

Reema's husband

Adi Irani as Gopichand Oswal

, Aarav, and Vivaan's grandfather

Shakti Singh as Prof. Avinash Narayan

, Reema and Simar's father

Anita Kulkarni as Indu Narayan

, Avinash's wife

Aarav Chowdhary as Gajendra Oswal,

Aarav's father

Shital Thakkar as Sandhya Oswal,

Gajendra's wife

Vibha Bhagat as Chitra Oswal

, Vivaan's mother

Rajeev Paul

is playing the character of Gajendra's brother, and Vivaan's father as

Giriraj Oswal
Deepika Kakkar makes a special guest entry in Sasural Simar Ka 2 to give a new beginning to the story
Akash Jagga as Gagan Narayan

, Simar and Reema's brother

Rakshit Wahi as Reyansh Oswal

, Vivaan's brother

Shubhanshi Singh Raghuvanshi as Aditi Oswal

, Aarav's sister

Salman Shaikh as Devesh Agarwal,

Reema's photographer

Dolphin Dubey as Yamini Devi Oswal

, Gopichand's second wife

Leena Prabhu as Shobha Oswal Kashyap

, Gajendra, and Giriraj's sister

Shubhangi Tambale as Roma Narayan Kashyap

, Reema and Simar's sister

Wasim Mushtaq as Lalit Kashyap

, Shobha's son

Avinash Sahijwani as Dr. Rajendra Kashyap

, Shobha's husband

Prithvi Talwar as Vivek Kashyap

, Lalit's brother

Giriraj Kabra as Mohit,

a local goon

Seha Tomar as Kajal Gupta

, Vivaan's ex-fiancee

Kamal Ghimiral as Surinder Gupta

, Oswals' business associate, and Kajal's father

Sumit Bhardwaj as Samar Khanna

, music composer and Simar's ex-fiancee

Sonam Arora as Bhavna,

Brothel owner

Kamal Malik as Rana
Along with these members of the Sasural Simar Ka cast, our old Simar from Sasural Simar Ka season 1, Deepika Kakkar makes a guest entry in the pilot episode of the show to kickstart the new season and a new beginning to a new story.
Here is a link for the trailer of the show:
Sasural simar Ka 2 written update:
Sasural Simar Ka season 2 story is all set in the city of Agra. The storyline of the show is centered on two sisters Reema and Simar who get married in the same family as Sisters-in-law. Simar has a dream of becoming a singer while on the other hand, Reema dreams of becoming a model. From the Oswal family, Vivan and Aarav are cousins who are the world to each other. Both of them develop feelings for Reema. But, Simar falls for Aarav.
Destiny plays the game and Reema runs away from her wedding owing to her modeling assignment. Simar is asked to marry Aarav. After her return, Reema seeks revenge on Simar and marries Vivaan. Simar considers Yamini as her singing idol unaware of the fact that she is the second wife of Gopichand.
Aarav moves ahead in life and starts developing feelings for Simar. But on Geetajali's insistence, they get divorced. After the divorce, Simar devotes her energy to her music. Reema finds a match, Samar for Simar. Simar gives in to Reema's manipulation. When the news reaches Aarav, he feels dejected. He goes to meet Simar and asks her to flee with him Simar expresses her disagreement.
Aarav gets arrested on the charges of obstructing the wedding. After his release from jail, he professes his love for Simar at her wedding dias in front of everyone. Both of them go to the temple and get remarried. But the family disowns them.
Geetanjali proposes to replace Vivaan's name with that of Aarav in the will. This elates Reema but faces the blame from Vivaan's side. Simar wants both the families to be happy together. Reema throws Aarav's stuff out of the house and sets it on fire. In the turn of events, Aarav and Mohit fight but Simar stops Aarav. On the other hand, Reema and Chitra join hands. Yamini helps Simar and Aarav and brings them to her house. Aarav is very grateful to her. Vivaan gives in to become the CEO of the company with a wish that Aarav and Simar will soon return to the family.
Sasural Simar Ka 2 story witnesses a huge family drama ahead.
Vivaan tries his best to convince the family to forgive the couple but all the family members deny recognizing Aarav and taunt them. Aarav's parents say they do not know him. Badi maa claims he has only one grandson, Vivaan. Listening to all these things, Vivaan denies taking the responsibilities of the company as CEO. He says he can never be able to replace Aarav. This announcement of Vivaan upsets Reema. she gets scared that everything will be ruined. Reema tries to make Vivaan understand but in vain.
Reema goes with some of her wicked plans and creates problems in Simar's life. Vivaan knows about every step of Reema. And soon, Reema becomes a person of hatred for Sandhya. As time passes, the family forgives and accepts the relationship of Simar and Aarav. When everything was on the way to get normalized, it comes to light that Gagan and Aditi liked each other.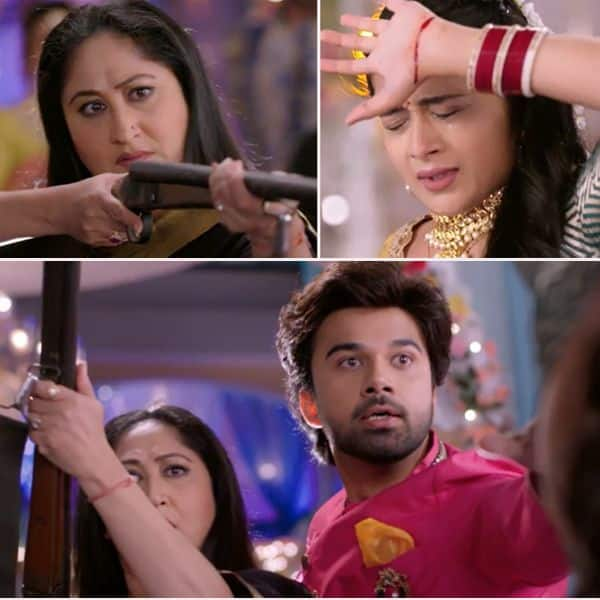 This revelation shocks the family. Both the families disagree with this relationship. However, Simar and Aarav try their best to unite Gagan and Aditi. But, testing has some other plans for them. Geetanjali fixes Aditi's alliance with Mayank. Aditi disagrees and reaches Gagan's house on her wedding day. Much to her surprise, she witnesses Gagan getting engaged to Radhika. This breaks Aditi, and in a fit of rage, she marries Mayank. On the other hand, Gagan calls off his engagement with Radhika.
After their wedding, Mayank finds out that Aditi is pregnant with Gangan's child. Mayank insults Aditi and the Oswal family. The Oswal family tries to kill Mayank but Simar rescues him. When Gagan gets to know about Aditi being pregnant, he kidnaps Geetanjali Devi. In the form of ransom, he puts forth a demand that Aditi and his unborn baby should be handed over to him.
Sasural Simar Ka written update is available on Google, Wikipedia, and even the telegram app. Some of the short briefings could be accessed on the VOOT app.
Sasural Simar Ka season 2 written update about the ongoing track:
Just like other TV serials, Sasural Simar Ka 2 is also full of family drama and romance. Since we have had Holi in the last week, the serial's ongoing track is also all about Holi's celebration.
Sasural Simar Ka 2 written update:
In the Sasural Simar Ka 2 upcoming story, the viewers are going to witness a hilarious Holi celebration sequence in the show. As per the Sasural Simar Ka written update, there is going to be the Bhaang sequence in the show. The lead pair of the show would probably get drunk and create some scene that would again ignite the family drama.
The Sasural Simar Ka written episode could be accessed over the VOOT app or Telegram. One can watch the Sasural Simar Ka 2 upcoming story 24 hours before the TV on the VOOT app provided if they possess the subscription. However, the episode could is watched for free the next day of its telecast on Colors TV.
Here is a trailer link for an upcoming episode of Sasural Simar Ka 2:
Sasural Simar Ka 2 is liked by the viewers. This is the reason that the show is about to complete its one year in the upcoming month of April.
Read More Blogs on 99Chill: