Mahabharat is one of the oldest epics in history. Since our childhood, we all have listened to the stories from Ramayan Mahabharat. These two epics are full of knowledge that one needs to adapt to life. However, the very first attempt was made by B.R. Chopra to depict the inscribed story in the visual form on Television in the era of Doordarshan.
The episodes were telecasted every Sunday and this made to glue the family together to watch the series. The next attempt was done by the makers of Mahabharat star plus. The motive behind the remaking of this television series was to target the youth audience who is interested more in styling and other things.
Both times, the makers have tried their best to show everything they could. However, our parents and grandparents who have watched the earlier show, find it more relatable and fine. Mahabharat Hotstar is also liked by the viewers to a great extent.
The Mahabharat Star Plus cast has also given the best and tried their best to match the level of acting as in BR Chopra Mahabharat.
Mahabharat Star Plus was telecasted in the year 2013. The storyline was created by Siddharth Kumar Tewary, Sharmin Joseph, Radhika Anand, Anand Vardhan, and Mihir Bhuta. The director of Mahabharat Star Plus cast is Siddharth Anand Kumar and his associates.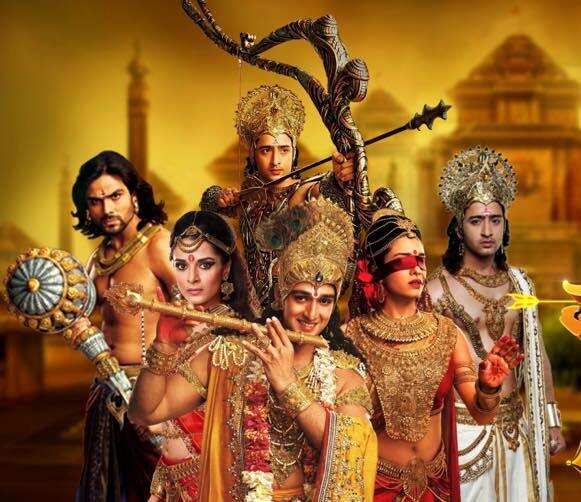 Mahabharat star plus cast:
The cast of Mahabharat star plus has shown great acting skills. Here is a complete list of Mahabharat star plus characters along with their real names:
Saurabh Raj Jain

as Krishna
Shaheer Sheikh as Arjun
Pooja Sharma as Draupadi Mahabharat Star Plus
Aham Sharma as Karna
Arpit Ranka as Duryodhan
Parneet Bhat as Shakuni
Arav Chowdhary as Bhishma
Thakur Anoop Singh as Dhritarashtra
Riya Deepsi as Gandhari
Shafaq Naaz as Kunti
Rohit Bhardwaj as Yudhishthira
Saurav Gupta as Bhima
Nissar Khan as Drona
Ankit Mohan as Ashwatthama
Vin Rana as Nakul
Lavanya Bhardwaj as Sahadev
Nirbhay Wadhwa as Dushasana
Naveen Jinger as Vidura
Karan Suchak as Drishtadyumna
Sandeep Arora as Vikarna
Sayantani Ghosh as Satyavati
Shikha Singh as Shikhandini
Paras Arora as Abhimanyu
Ajay Mishra as Sanjay
Atul Mishra as Vedvyas
Arun Singh as Pandu
Veebha Anand as Subhadra
Ali Hassan as Jayadhratha
Vaishnavi Dhanraj as Hidimba
Ketan Karande as Ghatotkacha
Tarun Khanna as Balarama
Deepak Jethi as King Virat
Rumi Khan as Keechak
Joy Mathur as Shishupal
Richa Mukherjee as Uttara
Pravisht Mishra as Uttar
Ratan Rajput as Amba
Aparna Dixit as Ambika
Mansi Sharma as Ambalika
Suhani Dhanki as Madri
Hemant Chaudhary as Krip, Pandava, and Kaurava's royal teacher
Pallavi Subhash as Rukmini
Tinu Verma as Jarasandha
Mohit Raina as Lord Shiva
Sachin Verma portrayed the character of Lord Indra
Sandeep Rajora as Lord Surya
Kunal Bhatia as Lord Agni
Vishal Kotian as Lord Hanuman
We will get to know the Mahabharat actors real name and photos.
This was the list of lead Mahabharat star plus characters. Here are a few pictures of the Mahabharat Star Plus cast:
The background story of Mahabharat Hotstar:
The first episode of the Television series kick starts with King Shantanu, his wife Ganga, and their son, Devavrata. After Ganga's death, Shantanu finds another lady love, Satyavati. Her father refuses to get her married to the king because of the throne. Devavrata comes to know about the same and takes the oath to never get married. Now, King Shantanu and Satayavati's son will take over the throne. This huge oath led to his new name, Bhishma. Shantanu grants a blessing that he will die only when he wants. Satyavati gives birth to 2 children, Vichitravirya and Chitrangada. After Chitrangada's death, Vichitravirya takes over the throne of Hastinapura. On Satyavati's advice, Bhisham wins over three princesses of kingdom Kashi to get them married to Vivhitravirya. however, Amba rebels and promises to return to be the cause of Bhishma's death. Ambika and Ambalika accept to be the queens of Hastinapur. However, Vichitraviya too dies and there is no heir to the throne. This time Vedvyas is called to the kingdom. With his divine powers, both the queens get pregnant, and one of the maids is named Parishrami. Dhritarashtra is born to Ambika. Pandu is born to Ambika, Ambalika, and Vidur gets born to Parishrami.
Mahabharat Hotstar story after 25 years:
Dhritarashtra is blind since birth and gets married to the princess, Gandhari. She blindfolds herself to honor her husband. However, her brother Shakuni gets angry on learning the same and he takes an oath to demolish Bhishma. Despite being the eldest, Dhritarashtra is not allowed to acquire Hastinapur's throne because of his blindness. This upsets him. Pandu takes over the throne. He gets married to Kunti. Just after his marriage, Pandu leaves behind Kunti and Hastinapur for the war. On his way back to Hastinapur, he announces his other wife, Madri. Pandu gets a curse from Sage Kindama that his death will occur if he tries to come closer to his wives. Pandu regrets his actions and leaves the kingdom with Madri and Kunti. After Pandu leaves, Dhritarashtra becomes the king.

Kunti was blessed with a boon by Durvasa sage a few years ago. She uses the same boon and begets Yudhishthira, Bheem, and Arjun from Yama, Vayu, and Indra respectively for herself. Kunti begets Nakul and Sahadev from Ashwini Kumar for Madri. On the other hand, Gandhari in Mahabharat conceives but does not deliver for 2 years. After long wait, Gandhari gives birth to flesh. The lump is cut into 101 pieces which result in the birth of 100 sons, and one daughter. She is named Dushala.
Mahabharat Hotstar story after 15 years:
The Mahabharat Star Plus cast introduces new cast members post leap of 15 years. Pandavas and Kauravas have grown. Duryodhan was the eldest among the Kauravas. Shakuni influences him with his evil thoughts. On the contrary, Pandavas spend their lives happily. After the death of Madri and Pandu, Kunti arrives Hastinapur with the five Pandavas. Duryodhan and Shakuni poison Bhim but he gets saved by his great grandfather. Bhishma takes strict action that forces Shakuni to return to his kingdom, Gandhar. Pandavas and Kauravas get Guru Drona as their teacher.
Mahabharat Hotstar after 12 years:
The princes have grown up and showcase the skills they have learned in all these years. Arjuna wins the competition.
He faces a challenge thrown by Karna. Kunti recognizes him to be her son who she had begot from Lord Surya. Kunti had abandoned Karna as she was unmarried then. Meanwhile, Arjun becomes on good terms with Krishna. Lord Krishna narrates the story as depicted by the cast of Mahabharat star plus along with the Mahabharat ringtone. Here is a glimpse of Mahabharat Krishna images in Mahabharat Hotstar and among the Mahabharat Star Plus cast: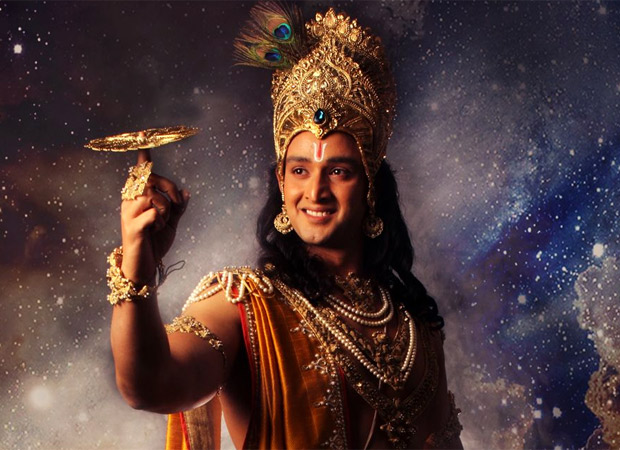 Pandavas visit Lakshagrah and get trapped into the Kauravas, Shakuni, and Karan's plan of killing them. But they manage to escape from there. The fake news of their death reaches Hastinapura. On the contrary, Kunti with her five sons lives like Brahmans. In the meantime, Bhim meets Hidimba after killing Hidimba, her brother. The couple gets married and later gives birth to a son who is named Ghatotkach. Amid the twisting turns and events, Pandavas get married to Draupadi.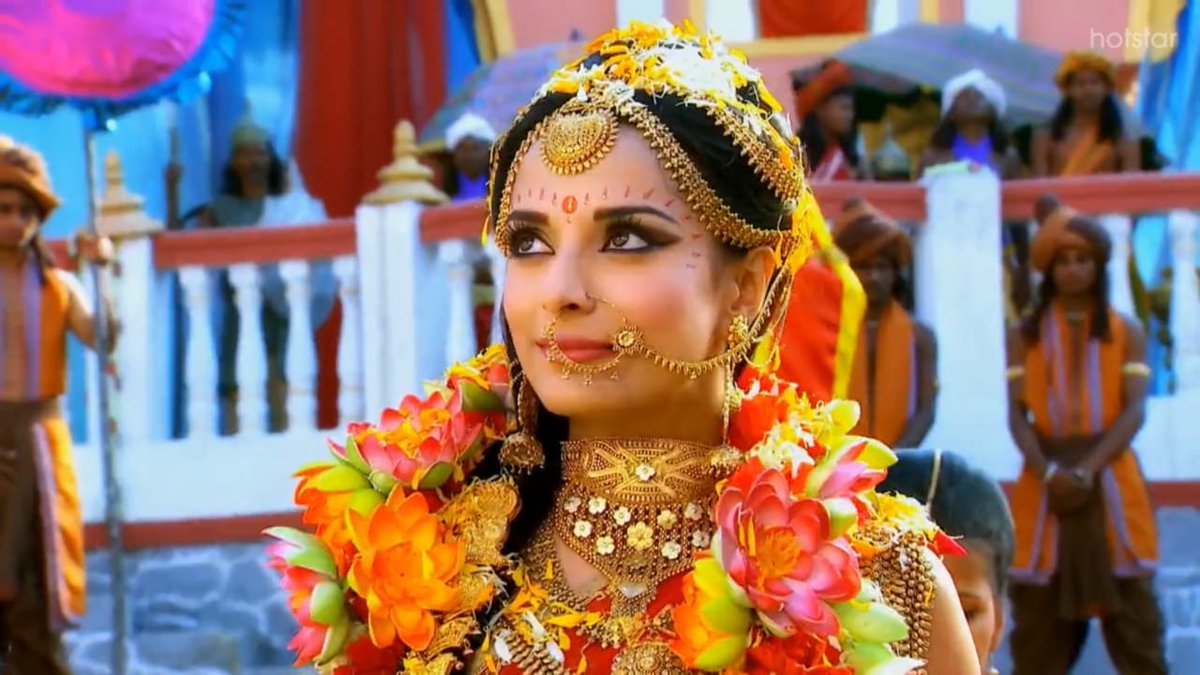 All of them arrive at Hastinapur and try to put their point. The story of Mahabharat Hotstar takes a new turn when the kingdom of Hastinapur gets divided into two parts. Khandavpratha comes under the rule of Pandavas. They work hard and make that place like a new kingdom. They rename the place Indraprastha. Duryodhan gets jealous of witnessing their prosperity. To get hold of the Indraprastha, Kauravas lay a trap and invite the Pandavas to Hastinapur for playing a game of dice. Yudhishthir ends up losing Indraprastha and then Draupadi. Dushasana drags Draupadi to the court and is humiliated by all. Draupadi's honor is saved by Krishna.
As a result of the game of dice, the Pandavas receive the order for 12 years of exile followed by one year of incognito. The Pandavas spend their 12 years receiving boons from different lords. In the thirteenth year, they live in King Virat's kingdom. After the wait for one year was over, the Pandavas and Draupadi get to meet Abhimanyu Mahabharat and Upapandavas. Abhimanyu and Uttara get married. Here the show witnesses the entry of some new Mahabharat Star Plus cast members.
The Pandavas try all the ways out to peace but Duryodhan does not give his approval. This adamant behavior of Duryodhan leads to the announcement of the war of Kurukshetra.
Just before the war, Arjun Mahabharat receives the Bhagavad Gita's knowledge from Lord Krishna. The war commences and continues for 18 days. Both the groups face the mass destruction of brave warriors. Dhritarashtra in Mahabharat gets to listen to all the happenings from Sanjay. Amid the war, all the Kaurava's and Pandavas' relatives, children get killed. Abhimanyu gets killed with cruelty in Mahabharat Chakravyuh.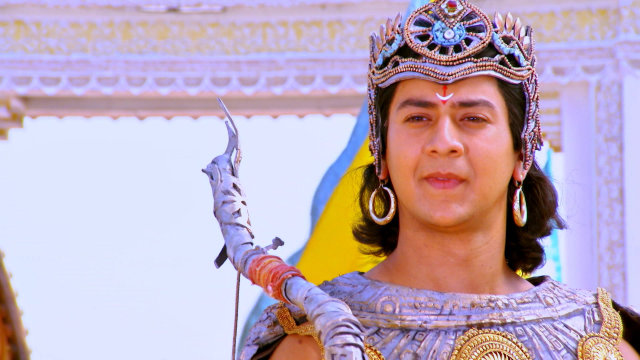 The war comes to an end when Bhim ends up killing Duryodhan.
Ashwatthama gets angry on seeing dead Duryodhana. He attacks the camp of Pandavas at night but ends up killing the Upapandavas. Then he tries to kill Uttara and her fetus with the Brahmastra. But, Shri Krishna revives them and names the child as Parikshit.
Lord Krishna curses Ashwatthama that he will bear severe pain for this heinous action. On returning to Hastinapur, Bhim is attacked by Dhritarashtra. Krishna is also cursed by Gandhari. The finale of the T.V. series Mahabharat Hotstar commences with Yudhishthir being crowned as Hastinapur's king. The Mahabharat Star Plus cast has been made to wear heavy jewelry and fancy outfit. The Mahabharat Ringtone is composed by Ajay Atul and approved by the director of Mahabharat Star Plus.
Here is a glimpse of the Mahabharat actors real name and photos:
The real story portrayed in the form of a Television series conveys the message that the truth always wins.
Here is a glimpse of Mahabharat:
Read More Blogs on 99Chill: