Bollywood is always full of movies that give us immense entertainment, comedy, action, dance, singing, and whatnot. The audience while going to a movie theatre for a three-hour-long movie has expectations that they will be witnessing a lot of drama, comedy, music, dance, action, and romance. But, there are several movies too which give us a social message along with all the other things we are expecting. Such movies are appreciated by the audience. There is this harsh reality of our society that people follow film stars more than anyone in this world. So, movies are a great means of giving a social message to society. Cinema plays an important role in our lives. To do something different, Bollywood has come up with some out-of-the-box movies, the movies which talked about some hush-hush topics of the society, movies that created a huge awareness in the society and influenced the people.
List of Bollywood movies on social issues:
Here are some Bollywood movies on social issues:
Padman (2018)

Toilet-Ek Prem Katha (2017)

Lipstick Under My Burkha (2016)

Ki and Ka (2016)

Prem Rog (1982)

Margarita with a Straw (2014)

Kya Kehna (2000)

Fire (1996)

Matrubhoomi: A Nation Without Women (2003)

Main, Meri Patni Aur Woh (2005)

My Brother Nikhil (2005)

Damini

Taare Zameen Par

3 Idiots

OMG! Oh My God

Pink
This is a very short list of movies with a social message, there are a lot more. Here are some of the movies that give a strong social message to society.
Padman:
This is one of the social movies Bollywood that is inspired by the life of a social activist and entrepreneur, Arunachalam Muruganantham who hails from Tamil Nadu. The film revolves around Lakshmi and his wife, Gayatri who refrains to do household chores due to her menstrual cycle. Lakshmi is oblivious to this fact because of his lack of knowledge. One day he gets worries about seeing his wife using unhygienic rags. He buys costly pads for her to which Gayatri tells him to return as using these pads means cutting off the milk expenses. Lakshmi comes to know that the pads are the cleanest choice to stop bleeding. Then, he takes some cotton, cloth, and glue and makes a temporary pad thinking it would work. When Gayatri uses it, it fails. She also tells Lakshmi not to intervene in such matters. He keeps trying with his students, his sister but all he gains is a disappointment. He then tries to use it himself leading to his embarrassment in public. In his hard work to pads, a professor shows him the pad-making machine worth millions. Lakshmi borrows some money and success in making a pad but, he has no one to test it. Then, he meets Pari Walia, who helps Lakshmi. His invention receives recognition as the "Life-Changing Innovation of the Year." Pari and Lakshmi together set out to help rural women. He receives an invitation from New York and gets a chance to speak at UNICEF. He is awarded Padma Shri in India. The film ends with a social message of breaking the taboo about the Menstrual Cycle of females. The film also tells the world about those difficult days in the life of a woman.
https://www.youtube.com/watch?v=-K9ujx8vO_A
Toilet - Ek Prem Katha:
Bollywood movies on social issues raise an issue regarding the non-availability of washrooms at home. The villagers have a perception of becoming impure if the toilets are there inside the house. The movie shows the major consequences that come from these matters that are considered to be trivial ones. The movie gives a social message about the hardships anyone has to go through, especially women who have to deal with the perverts lurking around. The washrooms inside the house are also crucial to maintain hygiene. There is a scene in the film where the Panditji passes by on a bike in the morning when the "Lota Party" was going on. No one can imagine or think about that disgusting feeling the rural women had for that moment. Even today, a lot of the population has to face these awkward situations in life many times. So, this movie intends to give a message to society that how much important it is to have a washroom in the house.
https://www.youtube.com/watch?v=ym4EJQ7XORk
Prem Rog:
This Bollywood movie gives a strong message to society about true love that is far away from lust. The film shows how one can love a person without being with him all the time, even that special one is not in love with you and gets married to someone. The film also gives a social message about the re-marriage of a widow. However, in the rural culture, the widows had no right to love or getting involved with anybody after her husband's death.
https://www.youtube.com/watch?v=TD8YEEYOAMw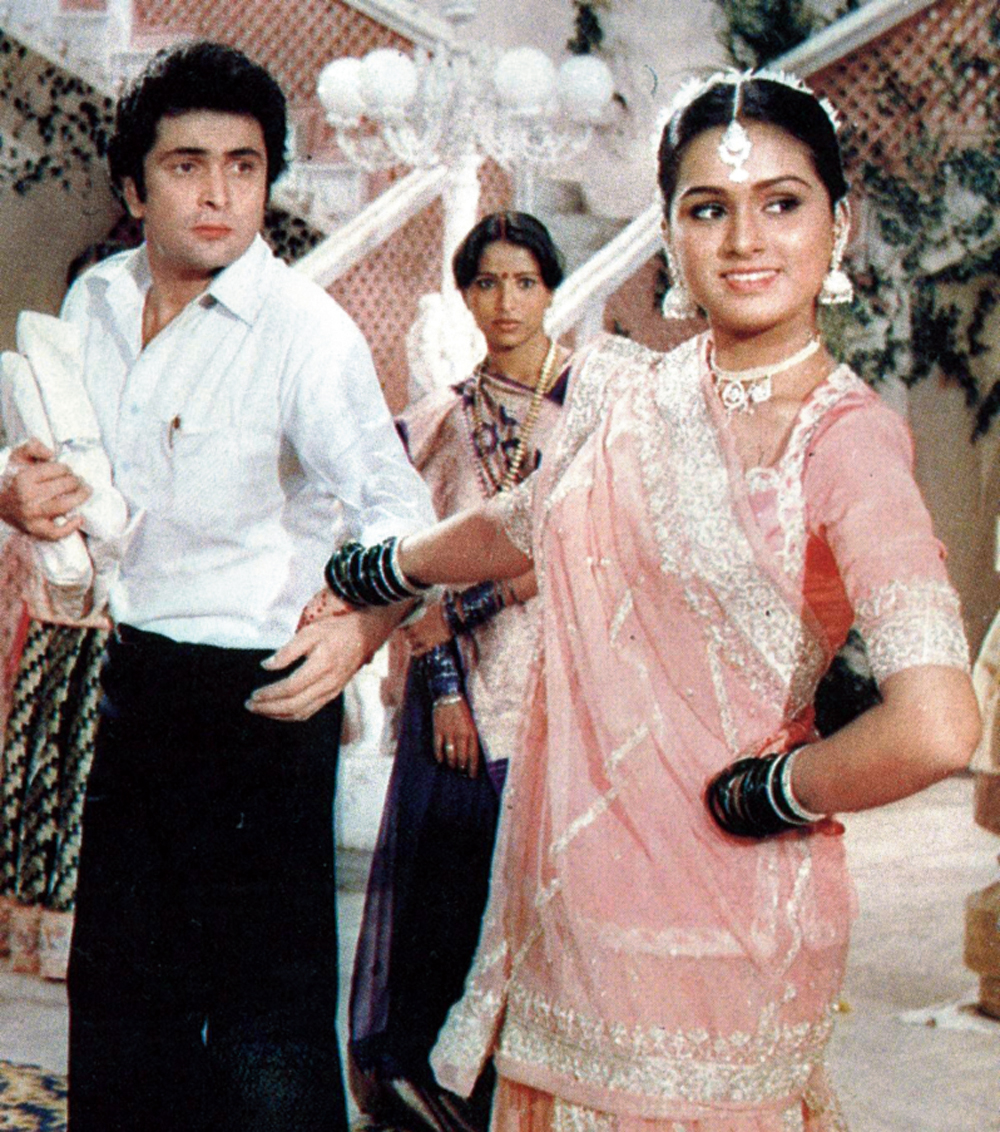 Kya Kehna:
Bollywood movies on social issues have a heart-touching story. the story of the film revolves around a single girl child in the family depicting the values of an Indian family, the kind of love, attention, and pampering she receives from her family. As the story proceeds, she falls in love with a rich and spoilt brat who is a womanizer. Then comes the twist to the tale when she becomes pregnant before getting married and the behavior of society towards her. The film deals with the taboo of pre-marriage pregnancy. This is one of the social movies Bollywood gives from time to time to spread awareness. The film shows how the whole society stands against an innocent girl and boycotts her whole family. During this tough time, it's her family who supports her, and yes, her best friend. He can be called her one-sided lover who never lets her best friend break down while facing the hardships and harsh reality of life.
https://www.youtube.com/watch?v=NvTD2FXJIu0
Fire:
This Bollywood movie gives a social message to society about the freedom of a woman to make her own choices without any support from a man. The film shows the misogynistic views of society about a woman. The story of the film can be related to the present scenario of the society, where the women are living their lives in their conditions. They are doing everything without caring whether they receive support from others or not.
3 Idiots:
This Bollywood movie proves to be the revolutionary one that changed the perception of people about education. The film gives a simple message to society that there is no need for big schools, expensive uniforms but only a strong will to learn something. The film emphasizes how important it is to look beyond high grades to consider someone a genius. The parents and the education system need to focus on what a child wants to do in his life beyond mugging up the things from books and writing the exams to gain high grades. The film does not support that one should not study but, we also need to give support to the kids if they want to do something different and unique with their lives.
https://www.youtube.com/watch?v=xvszmNXdM4w
Damini:
Bollywood movies on social issues show the story of a girl who fights for justice. The film is about a woman who needs to fight against the whole society for justice. This film is recognized to be the best woman-centric film ever made in Bollywood. The story is about a strong woman who fights against her family members and the whole society when she sets out for justice for her housemaid who got raped by one of her family members.
https://www.youtube.com/watch?v=XVJLPBJvPJM
Pink:
This Bollywood movie too joins the list for a Bollywood movie with a strong social message. The film shows how the girls are treated when they set out to live alone in a city. The story revolves around three girls who are friends and live together in a rented apartment away from their parents, the kind of hardships they face when they head on to file a complaint against a spoilt rich brat when he and his friends try to molest one of the girls. The police aid the boys instead of the girls. The movie gives a social message that "NO MEANS NO."
You can watch the trailer here:
https://www.youtube.com/watch?v=AL2TShb6fFs
Matrubhoomi: A Nation Without Women:
This special movie has its storyline based on the disgusting act of "Female Foeticide." The film shows the future aspect of a society that is devoid of girls if we keep killing the girl child. There are still some backward places where the families celebrate a boy's birth while they kill a girl, either before birth or after her birth. the story of the film revolves around a girl who gets married to five brothers. The film depicts the long-term effects of female foeticide, the caste differences, and the madness of males for physical relationships. These are the reasons that led five brothers to get married to a single woman. Limited dialogues from the women show the oppression they feel. On top of that, the makers have chosen theatre artists to enhance the acting performance in the movie. The film gives the social message about the important roles, a woman plays in our lives, being a mother, a wife, a sister, a grandmother, etc.
You can watch a short clip from the movie here:
https://www.youtube.com/watch?v=MCcikHuJ1Rc
Bollywood always succeeds in giving movies that always give a social mes sage.
Read more blogs on 99chill.com: