Line of Duty is a television series produced by Jed Mercurio that started on 26 June 2012. It is a British series with 6 seasons. The stories feature the Anti-Corruption led by Superintendent Ted Hastings. If you are looking for some good series full of mystery and crime scenes then without any second thought, you can binge-watch Line of duty. It is a British television series produced by world productions and created by Jed Mercurio. It is a drama show with a total of 6 seasons, the first season was broadcasted on 26 June 2012. It was one of the highest-watched web series of that time with 4.1 million viewers. The series starts with a mission to catch an Islamic terrorist but by mistake, they shot an innocent man. You can watch the line of duty trailer to get a basic idea about the storyline.
CAST OF LINE OF DUTY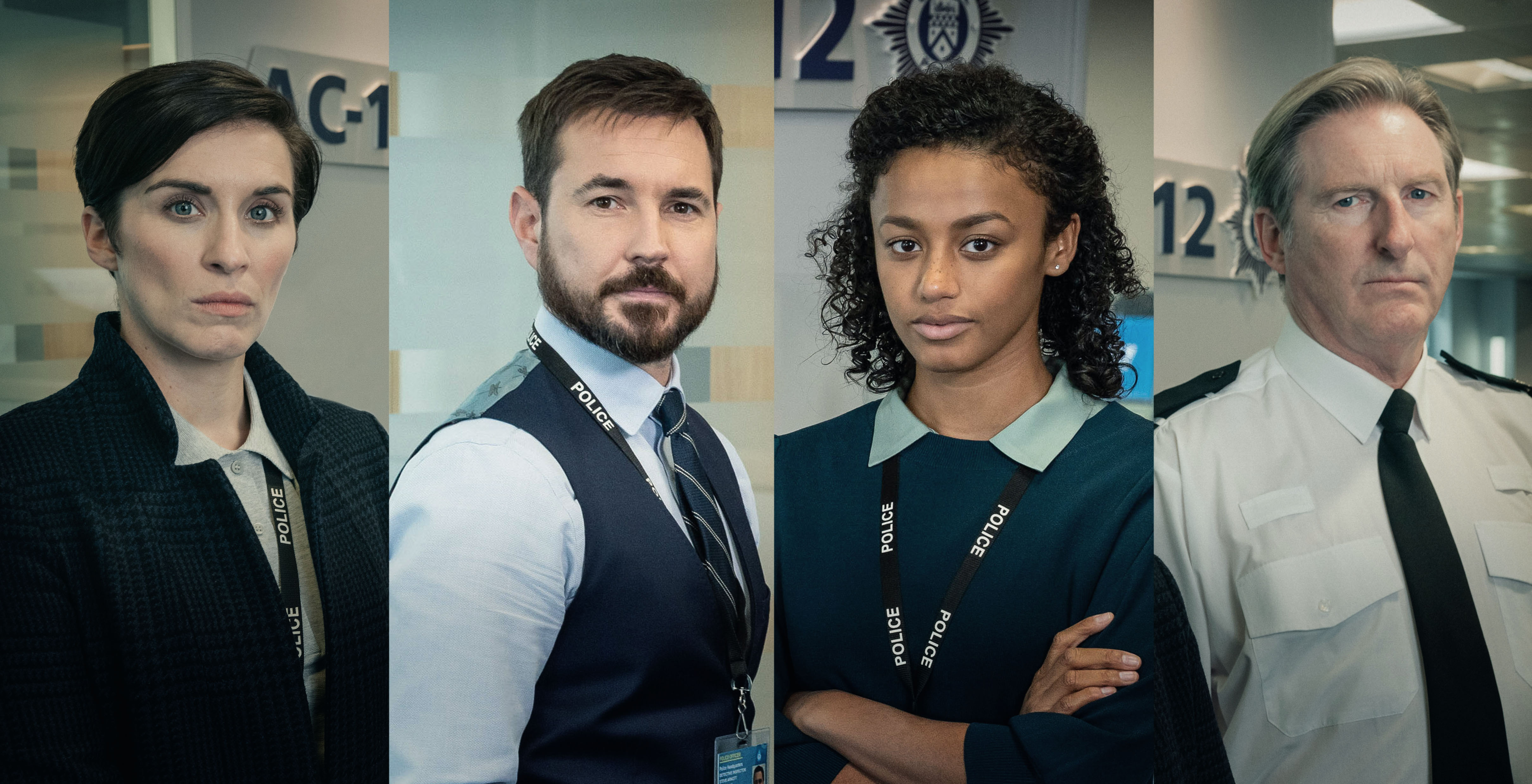 Vicky Mcclure, Martin Compston, Andrian Dunbar, Kelly Macdonald, Keeley Hawes, Stephen Graham, Shalom Brunefranklin, Anna Maxwell Martin, Craig Parkinson, Rochenda Sandal, Lennie James, Nigel Boyle, Claudia Jessie, Thandiwe Newton, Gregory Piper, Maya Sondhi, Daniel Mays, Annika Rose, Jessica Raine, Taj Atwal, Andi Osho, Sian Reese Williams, Alastair Natkiel, Mark Bonnar, Tony Pitts, Aiysha Hart, Ace Bhatti, Steve Toussaint, Christiana Chong, Polly Walker, Jason Watkins, Susan Vidler, Andrea Irvine, Sacha Dhawan, Natalie Gavin, Maanuv Thiara, Henry Pettigrew, Tomi May, Michael.
LINE OF DUTY SEASON 1 -
Season 1 is starring Lennie James, Martin Compston, Vicky McClure, Adrian Dunbar, and Craig Parkinson. There were a total of 5 episodes in the season. The series follows the actions of DC Kate Fleming (Vicky McClure), and Supritendant (Adrian Dunbar).
LINE OF DUTY SEASON 2-
In this season Denton is appeared to be super clever and innocent at the same time. She plays her game so well that all of a sudden she seemed to be innocent and is being framed.
LINE OF DUTY SEASON 3-
Season 3 is very well planned as Danny instructs everyone to behave like Rohan Murphy fire first on them. People loved the sharp turn the makers gave. The unique and tragic crime scenes gain the attention of a lot of people. It is one of the most liked seasons of all.
LINE OF DUTY SEASON 4-
A big truth was revealed that made left the audience with many unsolved questions. It was found out that behind all the three accidents OGC ( The Organised Crime group) was responsible. Both plotting and writing were highly appreciated by everyone.
LINE OF DUTY SEASON 5-
Season 5 focuses on uncovering the link between Organised CRime Group and police officers involved with them. Season 5 was the most watched program of the year.
LINE OF DUTY SEASON 6-
The series premiered on March 21, 2021.The SIO of an unsolved murder- DCI Joanne Davidson, whose unconventional conduct raises doubt at AC-12. The season came to an end on 2 May, answering some unsolved questions.
The Line of Duty series IMDb rating is 8.7/10 out of 10, which is a very good number.
FAQ's
Ques 1. Who is h in the line of duty?
Ans. It was revealed in the 6th season. Behind all the mind games there were 4 corrupted police officers who were plotting all the games.  DI Matthew, ACC Derek Hilton, and Senior Legal Counsel Gill Bigelow. It was revealed on Sunday night that DSU Ian Buckell was the missing member.
Ques 2. Where is a line of duty set?
Ans. There is an unknown location in Central England. There was no exact location told but Birmingham maps were seen in the background of the shots.
Ques 3. Is there a season 7 of the line of duty?
Ans. The actor of the line of duty gave some hints so there might be a season 7 heading our way. But there is no official confirmation.
Ques 4. Is there a new series of Line of Duty 2021?
Ans. There is no official confirmation of Season 7 but by looking at the previous seasons they aired in 2012,2014,2016,2017,2019 so season 7 can be expected in 2021.
Ques 5. Will there be a season 8 of Line of Duty?
Ans. Jed Mercurio (The show's creator) said that he only wants to shoot one more season of the series once the covid situation gets better. That means a line of duty finale is nearby.
Ques 6. Where can I watch the Line of Duty season 6?
Ans. Line of duty is available on Prime Video, and Britbox. All the six episodes are available on BBC iplayer you can binge watch without any worry.
Ques 7. Who was the original leader of OCG?
Ans. Tommy Hunter was the original leader of the OCG.
Here is the link for The Line of Duty series trailer: