This masterpiece is directed by Naseef Yusuf Izuddin and jointly produced by Anto Joseph Film Company and Plan J studios. The film was released on Netflix on 2 April 2021.
Hello Guys! If you are looking for a good online platform where you can get all information about Bollywood, Hollywood, TV serials, or any other gossip or important news about entertainment then you are at the right place. 99chill.com is a perfect place where you can easily find all the gossip, reviews, and much more. Today in this article you will be reading about a suspenseful thriller 2021 Irul Malayalam movie. 
ABOUT THE STORY
The movie began by introducing the main character of the movie "Alex". He is a businessman and a writer. He has written a book named "Irul". The book is very well loved by everyone. Then we get to know about the second character Archana. She is the girlfriend of Alex and is a lawyer by profession. Moving ahead we get to know that they both were in a relationship for 3 months only. Archana used to stay busy attending to the calls of her clients. One day they both were out for a coffee date and at that too Archana was busy attending to the calls of her clients this made Alex really frustrated and he went back home. At night, Archana calls him and tries to talk to him about the situation that her job is like this. Alex agrees with her and asks her to go out with him for a short trip but with the condition of no cell phones. Archana agrees with him later on we see that Alex and Archana are now proceeding on their short trip without their cell phones. After some time Archana asks him where are we going. But Alex tells her that it's a surprise for her. Everything was going fine but suddenly rain started and their car stops in the middle of the road. Alex tries to fix the problem in the car but he wasn't able to. He came back in the car and they both shared a romantic glaze. Alex noticed a house and they both decided to go inside the house and take some rest. There they meet one of the most important characters in the movie "Unni". They all talked a lot and it was revealed that the book Alex wrote was of a serial killer who kills only women. They all discussed the book for 4-5 minutes and after talking suddenly the power supplies get cut. Alex and Uni went downstairs and found the dead body of a woman. Suddenly there was the noise of a gun shooting this made Archana really worried. She went downstairs and saw Alex holding a gun pointed toward Unni. Alex tied him and dragged him upstairs. By seeing this Archana becomes very stunned and shocked. Alex told her that there is a body of a woman downstairs and Uri is the killer of her they discussed this and Alex understood that Uri was the serial killer that Alex wrote about in his book. Archana was very confused as one big truth was revealed here the house was of Alex. She started doubting him and thought that he is the serial killer behind the murder of the girl in the basement. From here the story becomes really interesting and full of suspense and thrillers. The main part of the movie begins with an unexpected twist in the end leaving the audience speechless and numb. You can enjoy all the plots, and twists by watching the full movie on Netflix.
IRUL'S CAST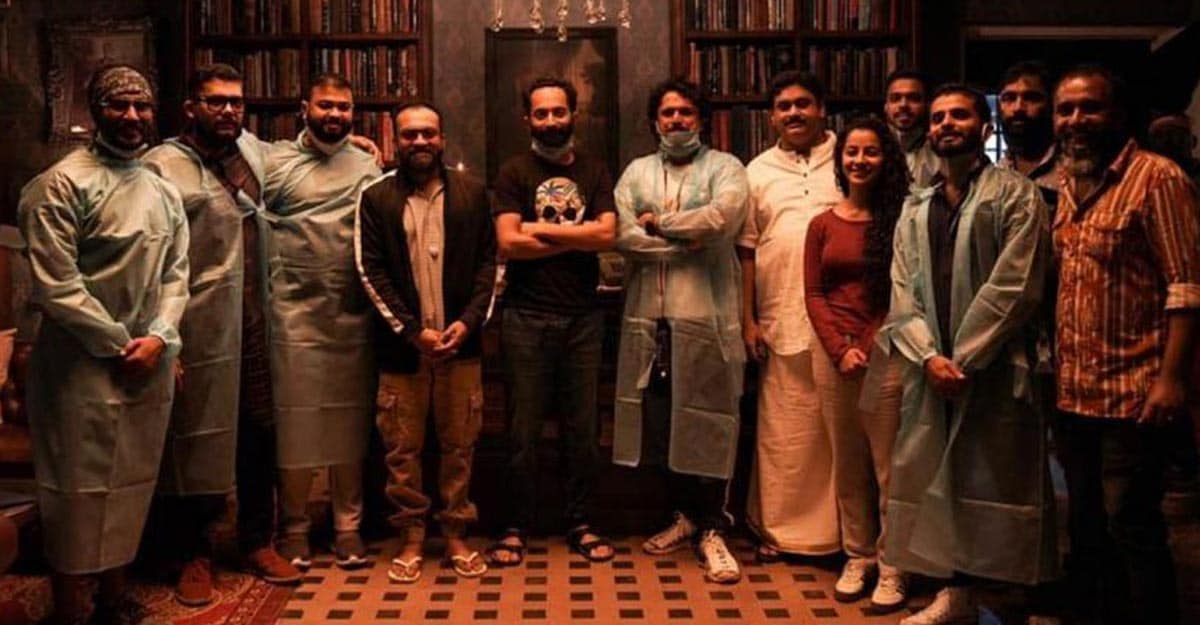 Fahadh (Unni)
Darshana Rajendran (Archana Pillai)
Soubin Shahir (Alex Parayil)
Sunil Yadav (Writer)
Naseef Yusuf Izudheen (Director)
Anto Joseph (Producer)
Jomon T John (Producer)
Shameer Muhameed (Editing)
Sreerag Saji (Music Director)
IRUL MALAYALAM MOVIE REVIEW
Irul 2021 is loved for the unexpected twist at the end. The movie revolves around Soubin Shair, Fahadh, and Darshana Rajendran. It was really difficult to predict who is the actual villain in the story till the end. All the visuals and acting of the cast are highly appreciated and loved by the audience. Although the end of the story made some people really disappointed as the end could have been better and more satisfying.
Irul Malayalm's movie IMDb ratings are 5.8 out of 10.
FAQ's:
Ques 1. Is Irul a good movie?
Ans. Irul Malayalam movie is perfect for a one-time watch. The series is full of twists, plots, and fun.
Ques 2. Is Irul's movie scary?
Ans. Irul Malayalam movie is a psychological thriller movie. It is not a ghost movie but the unexpected twists will blow your mind for sure.
Ques 3. What is the movie Irul about?
Ans. Irul Malayalam movie is a psychological movie. The movie starts with Alex and Archana going on a trip and ends with the murder of two innocent people.
Ques 4. What is the Irul release date?
Ans. Irul Tamil movie is released on 2 April 2021.
Ques 5. Where can I watch Irul?
Ans. You can watch Irul on Netflix.
Ques 6. Is Irul Malayalam's movie based on a true event?
Ans. Yes, Irul is based on a real-life serial killer who killed five women very dangerously. Irul is directed by the same idea.
Here is the link for Irul's movie trailer:
Image Credit : IMDb